HI AND WELCOME TO OUR WEBSITE!
We have arrived back safely in Brisbane to continue our tour down the Coast heading back home to Victoria. Our 6 week tour of "Big Sky Country" in the USA was fantastic!!! We can't wait to return back again!!! We will be doing some shows in NSW duriing the rest of the year. We look forward to being part of the Uranquinty Folk Festival and Bendigo Blues & Roots Festival. Also there will be a fund raiser for the BBRF in September, details on our gig guide...
Although still a little into the future we would like to mention the one off show that we will be performing with musician extraordinaire, George Washingmachine, on Thursday, 17 November. This all came about after a chance meeting at Thredbo Blues Festival and we can't express how excited we are about this! Please start organising for this date - or you will miss out. Again, for further details and links regarding this, please check the gig list below.
There are also many other shows and events in the pipeline, so please keep checking in here as we will constantly update things as details become available.
Our album "One Plus One Equals Three" was recently reviewed by well respected Singer/Songwriter Mark Lucas, you can read what he had to say on the Music page.
Phil would also like to extend his thanks for the ongoing support and help of Gerald Pink who's exceptional fingerpicks he has been using for some time now. Gerald does a fantastic job of his stainless steel pick sets which he custom makes and are second to none, it was great to catch up with him at Thredbo. Gerald plans to have a website up shortly but in the meantime if you need further information please email us.
While we're busy thanking people we would also like to extend our gratitude to Peter and Mandy Clinch of ClinchFX for keeping our gear functioning and David Churchill of Churchill Guitars for not only keeping our instruments sounding healthy but also for his tireless support and encouragement!
Please remember that your own support is also invaluable to us so continue to spread the word! See you at our next show but if you can't make it, tell your friends, or, even better bring them along!

Cheers Phil and Trudy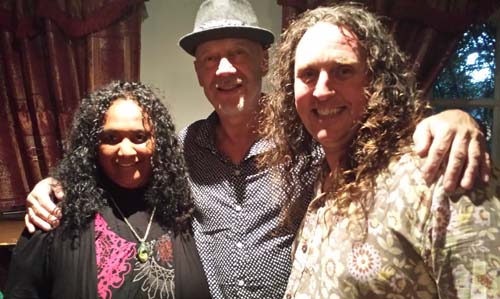 "A duo that really defines Roots music - engaging and confrontational.
A great experience" - Russell Morris

BENDIGO BLUES & ROOTS SHOWCASE / FUNDRAISER Sept 18 - Bendigo Blues & Roots Showcase/Fundraiser @ Newmarket Hotel & Bakery (Bendigo, Vic) 133 Charleston Rd / 12pm - 7.30pm / Music across 2 stages / $15 for adults, $5 for under-18s (with under-12s free).

Sept 22 - Pistol Pete's (Geelong, Vic) 8.30pm

Sept 25 - The Cosmopolitan (Trentham, Vic) 1pm

Sept 30 to Oct 3 - Uranquinty Folk Festival (Uranquinty, NSW)


Oct 6 - iHearMusic Presents COLLABORATE!!! @ LazyBones (Marrickville, NSW)

Oct 8 - The Agrestic Grocer (Orange, NSW) 12pm

Oct 14 - The Blackwood Merchant (Blackwood, Vic) 7pm

Coming Up in November 2016...
Nov 3 to 6 -Bendigo Blues & Roots Music Festival 2016


Thurs 17 -Lizottes (Lambton near Newcastle, NSW) Phil & Trudy Edgeley with Special Guest George Washingmachine (Lambton, NSW)
Show Only With A La Carte Available (premium seating) $29.00
Show Only With Bar Menu Available $29.00
After an impromptu set at Thredbo Blues Festival earlier this year the three of us swiftly came to the conclusion that it would be a great idea to repeat the experience. Despite all of us having demanding touring schedules we managed to set a date where we could once again come together for one special show only, an opportunity not to be missed, because anything could happen...and it probably will...