HI AND WELCOME TO OUR WEBSITE!
Well September is here! It has been nice to stand still for awhile from being on the road. We enjoyed our first winter in Victoria and now we are into Spring. The flowers are blooming. We have a couple of things happening, Trudy is doing another project with another Singer/Songwriter called Arkie T Williams, their duo act is called 'EDGELEY WILLIAMS' so keep an eye out for them. Their first show is on Thursday 14 Sept @ Spa Bar (Daylesford) also our PTE act will be having some different artists accompanying us on some of our shows. Andy Vogel (Piano Accordion & Harmonica) will be joining us for a couple of shows this month at Billyroys (Bendigo) & Spa Bar (Daylesford). So come along and see what we get up to! Hopefully see you at one of the shows. Anyway, all 3 of us, Phil, Trudy and the Hiace! are commited to hanging in there so we are counting on your continued support.
Phil would also like to extend his thanks for the ongoing support and help of Gerald Pink who's exceptional fingerpicks he has been using for some time now. Gerald does a fantastic job of his stainless steel pick sets which he custom makes and are second to none, it was great to catch up with him at Thredbo. Gerald plans to have a website up shortly but in the meantime if you need further information please email us.
While we're busy thanking people we would also like to extend our gratitude to Peter and Mandy Clinch of ClinchFX for keeping our gear functioning and David Churchill of Churchill Guitars for not only keeping our instruments sounding healthy but also for his tireless support and encouragement!
Cheers Phil & Trudy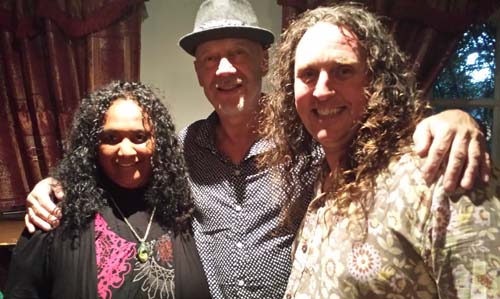 Photo: Trudy Edgeley, Russell Morris & Phil Edgeley
"A duo that really defines Roots music - engaging and confrontational.
A great experience" - Russell Morris

2017
Jan 23 - Tamworth Country Music Festival 2017 (Tamworth, NSW)
Jan 24 - Tamworth Country Music Festival 2017 (Tamworth, NSW)
Jan 25 - Tamworth Country Music Festival 2017 (Tamworth, NSW)

Apr 16 - Goldmines Hotel Easter Sunday Super Show (Bendigo, Vic)
Apr 22 - The End Festival 2017 (Hill End, NSW)
May 13 - Hurricane Lamp 2017 - Almost Home Commemorating 150 years Pacific Islander History (Mackay, Qld) (Trudy Solo Performance)
Sept 22 - Billyroy's Bluesbar (Bendigo, Vic) feat. Andy Vogel
Nov 3 - The Guildford Family Hotel (Guildford, Vic)
Nov 10 & 12 - Heart & Soul Music Showcase @ Goldmines Hotel (Bendigo, Vic)